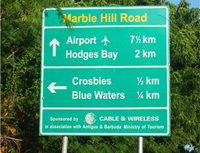 Innovative Brand Solutions Limited (IBS) has been set up to meet the ever changing needs of an increasingly affluent and informed global community. Incorporated in the United Kingdom with strong commercial links to the Caribbean, IBS is proud to be the pioneers in the region for implementing the concept 'enterprise through development'. Through this concept we have provided international standard directional road signs to Antigua. The people of St Kitts have also benefited from our innovative sponsored street sign initiative.
IBS is the creation of a Caribbean national based in London whose entrepreneurial flair and gusto earned him an interview with the popular and highly acclaimed BBC1 Dragon's Den investment television show in the United Kingdom where he pitched the notoriously business savy Dragons on the idea of establishing advertising light boxes around the Caribbean.
IBS is proficient in the fields of Information Technology, Marketing, Tourism, Media and Business Consultancy, having implemented projects both in London and the Caribbean.
IBS is a Business to Business (B2B) company committed to pursuing Customer Development Strategies aimed at providing unique and relevant services through one-to-one relationships with our customers, premised on trust.

mission statement
IBS works toward providing quick responses to specialised market requirements in an ever changing global commercial environment. We strive through unique advertising platforms and strategic partnerships to deliver superior marketing, e-commerce and sponsorship services across commercial and developmental projects. We are driven by our clients' satisfaction!